Video Protection Software To Copy Protect Video
---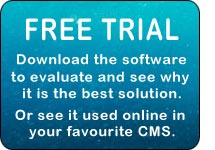 CopySafe Video provides the most secure video protection on the planet. Copy protected videos are safe from all copy and with DRM applied they can be protected from sharing and unauthorized distribution.
CopySafe Video can be distributed by email, download and on disk for desktop viewing which can be the most secure deliverable when DRM is applied. Or they can be displayed on web pages without DRM except for password protection managed by CMS membership. Consequently, desktop reading is the preferred option employed by most authors because with DRM applied they have total control over all aspects with immediate effect on any changes made. For example if a subscriber defaults on payment, their subscription can be suspended to restrict their access, even to videos already downloaded and saved to the user's computer.


CopySafe Video Protection Features

All videos are copy protected. With DRM applied sharing is prevented:
Encrypt video for desktop reading with optional DRM or online web page display.
Prevent all copy including PrintScreen and screen recording.
Limit by number of views per user.
Expire by calendar date or by hours/days from first use.
Limit usage to 1-3 computers per subscriber with computer lock.
Enable access by group or individual token, online or offline DRM.
Multi-language support (including right-left).
File encryption and decryption not limited by file size.
Unique buffering enables large video files to play online instantly.
Loss less compression dramatically decreases file size.
Online DRM portal account included for free without limitation.
Sell from our online book store for automated purchases/subscriptions.
Track sales and usage per document and subscriber.
Online Book Cover Design tool integrated with your DRM account.
One-time software purchase - free support and upgrades for life.
DRM Protect Video

CopySafe Vide on can be DRM protected to prevent sharing and unauthorized distribution. DRM can be applied while viewing on the Internet or offline.For more informations and the linsk to evaluate from a free DRM trial please see the DRM Protect Video page.


Who benefits the most by using CopySafe Video?

Anyone whose living depends on sales from views of their video. Whether it is for online courses or pre-release product review, preventing copy, sharing and unauthorized distribution is needed to protect the livelihoods of everyone's invested interest. Copy protection for video cannot get better than CopySafe Video.


Download CopySafe Video Protection Software

Here you can download the free Video Player and a trial version of the Video Encoder:


Unlicensed the CopySafe Video Encoder is fully functional but creates video files with some limitation. For example video length may limited to 2 minutes playing time and video for online display may be limited to viewing from http://localhost.


CopySafe Video Protection DRM Trial

Here you can evaluate our DRM portal for free for 14 days. Click to create a demo DRM account now.

Unlike our demo DRM portal for PDF where you can upload your own PDF for evaluation, the DRM portal for video requires uploads for substitute token files to avoid uploading of huge video files. Unfortunately such token files can only be created when the CopySafe Video Encoder is licensed. So the trial version of our DRM portal for video does not allow uploads. However you can still create a DRM account to evaluate the ready-made videos assigned to you by way of "group" permissions.

For evaluation of our DRM for video, try downloading and viewing a demo video while using the computer assigned to your demo account. Your demo account will have access rights to view the demo videos. But other computers will not have access. If you only have the one computer try sending the video to a friend with instructions for installing the CopySafe Video player. But don't be surprised when you find that they cannot open and play the video.


CopySafe Video Protection Demos Online

While most authors prefer to distribute protected video for desktop viewing with DRM applied, some do insist on keeping their users on their web site by displaying their protected video on their web pages. For that purpose we provide add-ons for most popular CMS such as Drupal, Joomla, Moodle, and WordPress that greatly simplify the task. The ArtisBrowser will be required to visit these demo sites:
CMS Plugins for CopySafe Video Protection

These free add-on plugins will enable you to upload and display copy protected video on your web pages from your online page editor:


CopySafe Video Protection Tutorial Videos
CopySafe Video Protection Licensing

Unlike other services that charge an annual support fee, charge for software upgrades and charge for anything else they can think of or plagiarize, ArtistScope provides copy protection solutions to protect the livelihood of artists and authors for for life. Included for free in each purchase of CopySafe Video is:
Free support by email for life.
Free software upgrades for life.
Free use of the DRM portal to manage an unlimited number of groups, subscribers and videos.
Free use of the CopySafe online store to advertise and sell your video. Sales are integrated with your DRM account to add new subscribers from successful purchases. There is no commission payable on sales. All you need is a PayPal account.
Free use of the online video cover design tool that is integrated with your DRM account and online store.
If that sounds too much like a sales pitch, please consider that ArtistScope pioneered copy protection in 1998 and is still the leading developer for the copy protection of all media displayed on both the desktop and online using a web browser. ArtistScope is the oldest surviving copy protection provider and the only one with integrity and the history to prove it.
Purchase CopySafe Video Protection Software

Each license includes free support and upgrades for life, the DRM Portal service for free without limitation, use of our online book cover design tool and the promotion/sales of video without limitation in our online book store free of commission.
The licensing for the CopySafe Video Encoder software is per computer (the one used to encrypt your video). The order form will automatically calculate the discount for multiple licenses.
* Proof of a CopySafe Video Encoder license is required when ordering Domain Lock.


Note: That the CopySafe Video Player is free to redistribute to your users without any limitations. It is only the encryption software (the CopySafe Video Encoder) that needs to be licensed. Both the Player and the Encoder are supported on all 32-bit and 64-bit computers from Windows XP to Windows 10.


Frequent Questions and Answers
How does CopySafe Video compare to other secure video solutions?

Other solutions are not secure at all while CopySafe Video provides the most secure protection from all copy, prevention of sharing and unauthorized distribution, and cannot be extracted or decompiled in any way.


Can CopySafe Video be viewed in other media players?

No. The only player that can open CopySafe Video is the CopySafe Video Player which is how it can provide the most secure video solution on the planet, with total control management over all aspects and immediate effect on any changes made from your DRM control panel.


Can the CopySafe Video Player be branded?

No. Reputation counts for a lot these days and it is the ArtistScope branding that has the best reputation, especially when code-signed and designed to be as generic looking as possible.


Can the CopySafe Video Player be distributed with my videos?

Yes. The CopySafe Video Player is a free download to the public. However we recommend giving your susbscribers the link to download it direct from our web site so that they can always get the latest version.


Can CopySafe Video be distributed in an executable player?

No. Distributing executable viewers is something that we innovated only to learn soon after that it posed problems as later versions were released that caused conflicts and errors. It is always best to distribute individual videos that can be read in the CopySafe Video Player which can be updated as and when necessary.


Does CopySafe Video increase the file size of the video?

No. Although the video is encrypted to the nth level and cannot be decrypted by any application except the Copysafe Video Player, the file size of the original document does not increase.


Is CopySafe Video licensing a one-time fee or are there other costs?

Licensing for the CopySafe Video Encoder software is a one-time fee that includes use of the online DRM portal for free for life.


What type of files can be protected by CopySafe Video?

Most types of video files can be encoded for CopySafe Video.


Is it necessary to be online to open a DRM protected video?

Yes and no. It depends on the video author may or may not extend DRM to offline use via Tokens.


Can I use CopySafe Video with DRM in an intranet or corporate network?

Yes. The CopySafe Video DRM software can be purchased and installed on your Windows server making your DRM service completely in-house and independent.


Can CopySafe Video be displayed on web pages?

Yes and we do provide modules for all the popular CMS like Drupal, WordPress, etc. However since late 2015 all popular web browsers have dropped support for real plugins, leaving only the ArtistScope web browser to support plugins that can action at system level. The plugins now supported by popular browsers can only be based on JavaScript and CSS and are thus limited to simple apps.


Publishing for desktop viewing vs web page viewing?

While web page display of protected video may seem like a good idea, it is not as secure as desktop viewing which can use DRM. Also, for web page viewing only the ArtisBrowser can be used. Most online courses use the desktop viewing option with DRM applied because not only is it very much more secure by preventing sharing, authors can distribute by email, download and on disk while maintaining TOTAL CONTROL over all aspects with immediate effect on any changes made, even on videos still out in the wild or already saved to a user's computer.


Can CopySafe Video be viewed on all devices and OS such as phones?

No. Windows is required. However Mac can install the CopySafe Video Player by running Windows in a Parallels partition.


Are there plans to extend CopySafe Video support to other OS?

Not possible. All non-Windows OS are useless for real copy protection because they cannot prevent copy at system level and cannot reliably identify the user's machine to properly enforce DRM. Authors publishing their intellectual property for such devices do so at their own peril.