Website Protection Software - ArtistScope Site Protection Software (ASPS)
---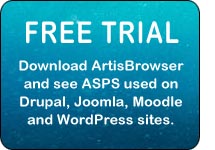 The ArtistScope Site Protection Software (ASPS) provides the most robust and most secure website security and copy protection for all web page media, safe from all copy including screen capture, download, scraping, etc. In fact ASPS provides the most secure solution for data security and the prevention of data loss and plagiarism. When used with SSL it is even safe from packet sniffers where nothing can be extracted from browser cache or memory. ASPS can convert any web site to a secure web site, ideal for private information kiosks, corporate data and online courses.

How ASPS Site Protection Software Protects Your Website Content
An ASPS server filter is installed on the web server (Apache or Windows) to deliver encrypted web pages when an ASPS meta-tag is found in the page. Web pages to be protected by ASPS can only be viewed by using the ArtisBrowser web browser and any other web browser will only get an error message informing them of that requirement with a link to download the ArtisBrowser. If the ArtisBrowser requests the page then it is delivered in encrypted form that only the ArtisBrowser can decode and display according to other met-tags that can be included to nominate the various copy protection options. While an ASPS protected web page is displayed in the ArtisBrowser, everything displayed on the page including HTML and media cannot be copied or exploited in any way, thus rendering your web pages more secure than ever imagined.

ASPS Site Protection Security Features
All media displayed on an ASPS web page can be copy protected except PDF (see below*). Any web page or section within your website can be nominated for ASPS protection while other pages can be delivered as usual, enabling your website to deliver any combination of protected pages and normal pages that can still be optimized for search engines and SEO.
Prevent all copy, save, PrintScreen and screen capture.
Use SSL to extend protection from data miners and packet sniffers.
Media links cannot be obtained by scraping or view of page source.
No right click menus or status bar indication of hyperlinks.
Content is not retrievable from browser cache or memory.
Downloaded data is safe from packet-sniffers when SSL is used.
Data cannot be extracted from browser cache or memory.
Can be used on Apache and Windows web servers.
Delivers any type of web page that can be viewed by a web browser.
Control browser window size or kiosk mode per individual page.
Control print and copy protection per individual page.
Identify users by their unique Computer ID for DRM management.
Supported on both Windows and Mac computers by ArtisBrowser.
* Normal PDF uses Adobe Reader and it cannot be protected while embedded on a web page because Adobe Reader now provides options in its toolbar for save/print that cannot be disabled. To securely copy protect PDF displayed on web pages you need to use CopySafe PDF which is compatible with ASPS and supported by ArtisBrowser.

Who Benefits The Most By Using ASPS Site Protection?
Anyone who can afford the extra cost of a virtual web server, which is not much these days as virtuals can now be rented for $10/month and less. ASPS provides the most secure copy protection for all web page media (except normal PDF) that cannot be copied or exploited in any way, short of taking a photograph of the computer monitor itself. Data and media cannot be extracted from the web page and when SSL is used packet sniffing yields nothing of any use. In fact media and data cannot be extracted or retrieved even from the browser cache or memory. Copy protection for web data and media cannot get better than with the ArtistScope Site Protection Software (ASPS). See how to copy protect live video stream.

ASPS Site Protection Server Requirements
Any version of Windows or Apache/Linux web server is suitable. However a dedicated or virtual web server is required to have the permission to install software at system level. Installation is always performed by ArtistScope to ensure that the filter module is suited to the server OS version and that it is properly licensed for the intended web site/s. Self install is not an option. Administrator access will be required to perform installation via a Remote Desktop Connection or TeamViewer.
If you do not have access to a dedicated or virtual server you will need to upgrade to use ASPS. These days virtual servers can be most economical with some webhosts renting them from $10/month. Otherwise, as an alternative, you can use CopySafe Web which will run from any web page anywhere. CopySafe Web is not as secure as ASPS but it does provide screen capture protection for the web page while on display and it does provide security for images stored on the web server, even from your webmaster.

ASPS Site Protection Online Demos
To review and evaluate the effect of ASPS protection on various types of web site that use CMS, the following demo sites are available. CMS plugins are available for DNN, Drupal, Joomla, Moodle and WordPress websites that greatly simplify the management of pages that you want to protect. For example, you only have to nominate the URL or a keyword found i in its URL to copy protect it with ASPS (no page editing required)..



Note: Our ASPS demo mirror will scrape and adjust your CSS and JavaScript links but it cannot adjust the link in a login web form. So for evaluation purposes, it will be best to avoid testing pages that require a login. Otherwise your test page will redirect to the normal (unprotected) version of your login page which will be outside of the realm of the ASPS mirror.

Remotely Test Your Website Or Any Website Using Our ASPS Mirror
Our ASPS Mirror is most unique in that it can retrieve and deliver a web page for review in the ArtisBrowser. Any type of web page can be mirrored and copy protected in. However while the web page will be copy protected, any pages clicked through from that page will not be protected. Also, if you visit that page directly it will not be protected. Only the page that we display in the demo will be copy protected.

Click to try the demo for Copy Protect Any Web Page Hosted Anywhere
The ArtisBrowser is required for this demo. Try it and see for yourself why ArtistScope copy protection software has confounded its competitors for more than 20 years.

ASPS Site Protection Tutorial Videos
ASPS Meta-Tag Management Plugins
The selection of web pages that you want to protect and the copy protection settings to apply to those pages is governed by meta-tags that you can add. However that task is very much simplified by using a plugin for your CMS that can add your ASPS meta-tag selection to existing web pages on the fly and nominated which pages for your secure web site are to be protected without editing those pages directly. Our ASPS Tag Management plugin is available for DNN, Drupal, Joomla, Moodle and WordPress websites.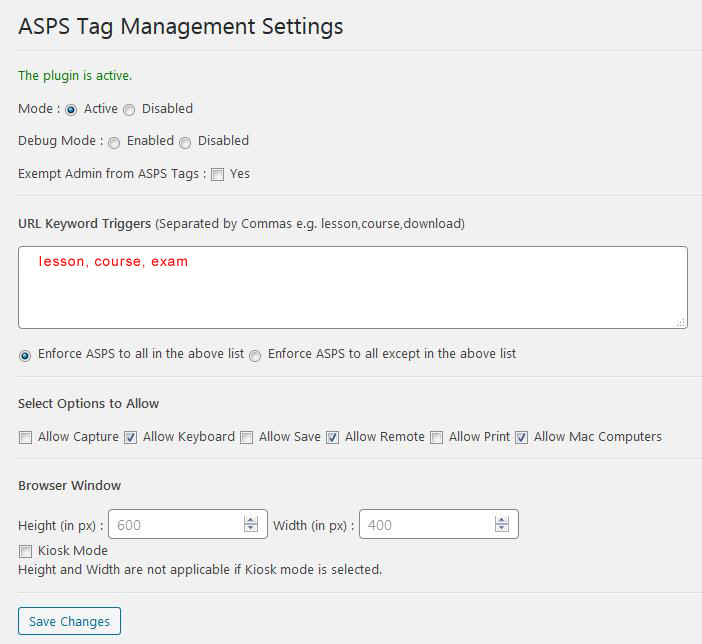 These add-ons will install into their CMS like any other site add-on.
Download the ArtisBrowser Secure Web Browser
The ArtisBrowser is required to view copy protected web sites because as of late 2015 all popular web browsers dropped support for real plugins (NPAPI) in favor of simple apps based on nothing more than HTML and JavaScript. The ArtisBrowser looks and feels like a normal web browser except that, when it detects CopySafe or ASPS web content, it goes into "copy protection mode".
Download ArtisBrowser

The ArtisBrowser can be used for any type of web site or web application regardless of the programming language used.

Purchase ASPS Server Software
Administrator rights to a dedicated or virtual server is required for ArtistScope to install this solution. ASPS software is supported on all Apache and Windows servers. Licensing is a one-time purchase per server and can include all aliases and sub-domains of a domain if they are hosted on the same server.
Frequent Questions and Answers
Does ASPS site protection include DRM features like with CopySafe PDF?

No. Most web sites today use a CMS like Drupal or WordPress to manage user accounts and logins. So it is best to use those existing features, use a custom add-on or modify the user management system already in place. Any CMS can be modified to cater for unique Computer ID by adding a few lines of code and an extra field in the user table. Then logins can record/check the unique computer ID provided by the ArtistScope web browser.

Update: CMS users can now use the ArtistScope DRM plugin on Moodle and WordPress.


Can ASPS protected web pages be searched via Google?

No. Only the ArtistScope web browser can decode and read ASPS web page content. This is by design as copy protected content needs to remain impenetrable.


How does ASPS download speed compare with normal content?

Apart from the fact that content is not cached, download speed will be the same for any first visit to a normal web page. The software has been designed and tested for high volume traffic with no apparent loss of performance or extra demand on a web server.


Can our own developers install this ASPS web security solution?

No. When installed by ArtistScope the server licensing is guaranteed to work and the selection of server filter guaranteed to work for your server type. For example Apache can come in many different flavors and the various control panels installed by web hosts can alter their configuration. So when the ArtistScope team installs the filter, if an odd/new server distribution/configuration is encountered, our team can rebuild the filter software to suit and thus ensure that your web security solution is ready to use.


Our corporate network uses Firefox or IE. Can these web browsers be used?

No. As of late 2015 all popular web browsers dropped support for real browser plugins making it impossible for them to interact at system level which is where copy protection and unique user identification needs to be applied. Only the ArtisBrowser still supports such interaction and only the ArtisBrowser can decrypt ASPS web pages.


Which programming languages are supported by ASPS site protection?

All of them. The ASPS filter encrypts and delivers the final web page, which is the HTML already assembled by your server side code. So it doesn't matter if your site uses ASP.Net, PHP, Ruby or beetle juice to create your web pages.


Can the ArtisBrowser be used on a terminal server?

No. This is not recommended at all because if a user on the same server visits a protected page SQL server functions will stop. ASPS server software can be used on any server, but use of the ArtisBrowser to visit that content must done from a separate server, computer or virtual partition.


Can I test the ASPS website protection on my server before purchase?

No. ASPS website protection requires software to be installed at server level by our support team. However all that you need to know prior to purchase can be evaluated from the demos that we have provided for most popular CMS such as Drupal, Joomla, Moodle and WordPress. But if your management cannot believe what they see there and still insist on seeing your website secured, a special ASPS Protected Mirror can be used to scrape your website and deliver via our ASPS server. But please keep in mind that such scraping alters the links to JavaScript and CSS style sheets that may break its design theme... that would not happen if ASPS was delivering your website protection directly from your site.


Can the ArtisBrowser be used on all devices and OS such as phones?

No. Windows or Mac OSX is required. Amusement devices like mobile phones are too insecure, too limiting, and too unstable to provide a reliable platform.


Are there plans to extend ArtisBrowser support to other OS?

Not possible. Apart from Windows and Mac OSX, all other OS are useless for real copy protection because they cannot provide a stable platform and/or are too limited to properly enforce DRM. They are for all intents and purposes, "amusement devices for the masses" and any author publishing their intellectual property for such devices does so at their own peril.


What are the alternatives for a secure a web site?

Nothing that compares. The CopySafe solutions require a Windows computer, while ASPS can most securely protect all media on both Windows and Mac computers.