ASPS Web Site Protection (ASPS)
---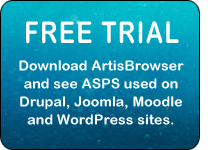 The ArtistScope Site Protection System (ASPS) provides the most robust and most secure copy protection for all web page media, safe from all copy including screen capture, download, scraping, etc. In fact ASPS provides the most secure solution for data security and the prevention of data loss and plagiarism. When used with SSL it is even safe from packet sniffers where nothing can be extracted from browser cache or memory.


How it works

An ASPS server filter is installed on the web server (Apache or Windows) to deliver encrypted web pages when a link is requested by the ArtisBrowser. Web pages to be protected by ASPS are identified by meta-tags so if a normal web browser requests an ASPS page all it gets is an error message about requiring the ArtisBrowser. If the ArtisBrowser requests the page then it is delivered in encrypted form that only the ArtisBrowser can decode and display.

While an ASPS web page is displayed in the ArtisBrowser its HTML and media cannot be copied or exploited in any way.


ASPS Protection Features

All media displayed on an ASPS web page can copy protected except PDF*. Select pages within your website can be tagged for ASPS protection while other pages can be delivered as normal web pages, enabling your website to deliver protected pages and normal pages for other browsers and SEO.
Prevent all copy, save, PrintScreen and screen capture.
Use SSL to extend protection from data miners and packet sniffers.
Media links cannot be obtained by scraping or view of page source.
No right click menus or status bar indication of hyperlinks.
Content is not retrievable from browser cache or memory.
Downloaded data is safe from packet-sniffers when SSL is used.
Can be used on Apache and Windows web servers.
Delivers any type of web page normally viewed by a web browser.
Control browser window size or kiosk mode per individual page.
Vary protection and print control per individual page.
Identify users by their unique Computer ID for DRM management.
* Normal PDF uses Adobe Reader and it cannot be protected while embedded on a web page because Adobe Reader now provides options in its toolbar for save/print that cannot be disabled. To securely copy protect PDF displayed on web pages you need to use CopySafe PDF which is supported by ArtisBrowser.


Who benefits the most by using ASPS?

Anyone who can afford the extra cost of a virtual web server. ASPS provides the most secure copy protection for all web page media (except normal PDF) that cannot be copied or exploited in any way, short of taking a photograph of the computer monitor itself. Data and media cannot be extracted from the web page and when SSL is used packet sniffing yields nothing of any use. In fact media and data cannot be extracted or retrieved even from the browser cache or memory. Copy protection for web data and media cannot get better than ASPS.


Server Requirements

First and foremost, a dedicated or virtual web server is required to have the permission to install software at system level. The ASPS server software is a HTTP filter that can be installed on both Linux (Apache) and Windows servers. Installation is always performed by ArtistScope to ensure that the filter module is suited to the server OS version and that it is properly licensed for the intended web site/s. Administrator access will be required to perform installation via a Remote Desktop Connection or TeamViewer. Self install is not an option.
If you do not have access to a dedicated or virtual server you will need to upgrade to use ASPS. These days virtual servers can be most economical with some webhosts renting them from $10/month.
Otherwise, as an alternative, you can use CopySafe Web which will run from any web page anywhere. CopySafe Web is not as secure as ASPS but it does provide screen capture protection for the web page while on display and it does provide security for images stored on the web server, even from your webmaster.


ASPS Online Demos

Our ASPS Mirror is most unique in that it can retrieve and deliver your web pages for review in the ArtisBrowser. Almost any type of web site can be mirrored and copy protected including Facebook pages. However the mirror can only server as a demo for how ASPS can work, and unless you have admin privileges on the site to add some code to prevent direct linking, the same pages will still be accessible via normal links from normal web browsers.
To prevent direct linking and only allow access via the ASPS mirror, you can use one of our Check Referrer plugins for DNN, Drupal, Joomla, Moodle, or WordPress that greatly simplify the task.
Click to view your website through our ASPS Mirror (14 day free trial).


ASPS Page Management

Customization of web pages that you want to protect and the copy protection settings to apply to those pages is governed by meta-tags that you can add. However that task can be very much simplified by using a plugin for your CMS that can add your ASPS meta-tag selection to existing web pages on the fly and nominated which pages are to be protected without editing the page directly. Our ASPS Tag Management plugin is available for DNN, Drupal, Joomla, Moodle and WordPress websites.
Download the ArtisBrowser

The ArtisBrowser includes most of the functionality of normal web browsers except that it is specially designed to copy protect web pages and media where all other browses fail.
ArtisBrowser : Version 2.9.4


| | | | |
| --- | --- | --- | --- |
| | Windows 32-bit and 64-bit | 59 Mb | Download |
The ArtisBrowser can be used for any type of web site or web application regardless of the programming language used.


Check-Referrer Add-ons for the ASPS Mirror

These add-ons are for use with the ASPS Mirror only, to prevent direct linking to your test page/s:
* Click to view the WordPress Tutorial video on YouTube.


Purchase ASPS Server Software

Administrator rights to a dedicated or virtual server is required for ArtistScope to install this solution. ASPS software is supported on all Apache and Windows servers. Licensing is a one-time purchase per server and can include all aliases and sub-domains of a domain if they are hosted on the same server.
| | | |
| --- | --- | --- |
| ASPS Server Software | Licensing per server | $495 |
| Installation | Installed by ArtistScope | free |