Online Book Cover Design Tool
---
Creating images for use for eBook covers in your promotions has never been easier with this FREE online tool. Upload your own background or overlay images and then choose your preferred layout from several design templates.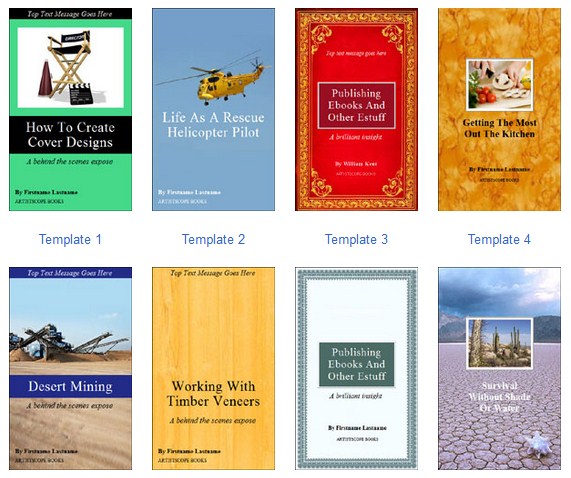 Design Tool Features
Our online cover design tools can be used from any web browser:
Select from hundreds of clipart images or upload your own.
Select a layout from a variety of design templates.
Nominate the text to display as title, author, etc.
Manipulate color selections.
Add/select an overlay image.
Create a full size cover image (450 x 270) pixels with thumbnail.
Download your images or send them by email.
Designs are saved to your account for later use/editing.
Images that you upload remain your property.
Your designs and images are protected by login.
This service is free to use without limitation.
Oversized images will be automatically resized and cropped according to your selected area. Images used for backgrounds must be at least 450 pixels high by 270 pixels wide to prevent the void from being filled with black.

Background images and cover images
New images can be uploaded for both full background images and featured middle images, or you can select from the 100 odd stock images and textures already provided. Any images can be uploaded, even images straight from your digital camera, as you will be able to select all or partial areas of the image and have them cropped to size and automatically adjusted for web use. All images are full size, as they appear in real life. For example the normal paperback sized is used which is 314 x 507 pixels (10.5 cm wide x 17.8 cm high).

Copyright, image stock and shared images
Images that you upload are not available to other users if you have an account to which they can be assigned. Otherwise all images uploaded as anonymous users may be available to all other users. The image stock provided by the Book Cover Designer belongs to the public domain and are royalty free.

Online Tool Locations
For Demo and Unlicensed CopySafe Users

The online Cover Design Tool is available for free from within the DRM portal provided as a Demo for evaluating CopySafe PDF DRM. While DRM demo accounts normally expire after 14 days, the same login can be used perpetually to access the Design Tool. See Design Tool for Demo Users.


For Licensed CopySafe Users

A separate Cover Design Tool is available from within an author's DRM portal and linked to their online book store listings. See Design Tool for Licensed Users.