Support


Group : Admin
Posts : 127
Joined: 2016-09-29


| | |
| --- | --- |
| Posted On: 2021-03-05 at 14:52 | |
If when clicking to play an online video, it just hangs with no response, you may need to alter browser preferences.

Unfortunately, some video services are using different methods and codecs to display video in embedded players, and ArtisBrowser has been designed to cater for all of those instances. So if you encounter a website where videos do not play, such as tutorial sites that stream via Vimeo and news sites that may be using any one of a number of CDNs, try changing this browser setting: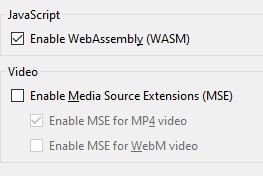 To disable MSE, untick the box. To enable MSE simply tick the box ans save.

Note: YouTube and some news sites play with MSE enabled, but Vimeo only plays with MSE disabled.