ArtistScope Portable Media
ArtistScope Portable Media (APM) provides protection for files containing media that can be distributed by email, download or on disk. When DRM is applied the files cannot be shared or redistributed without your authorization. Media files cannot be extracted and when used in conjunction with CopySafe PDF or CopySafe Web the media cannot be copied or screen recorded.


Non-DRM files can be password/expiry protected and viewed in the user's default web browser which is not ideal because popular browsers are designed to exploit media. However DRM protected files can only be viewed in the ArtisBrowser and cannot be shared and very much more secure because the ArtisBrowser is especially designed to support copy protection.

Regardless of DRM status, all APM files can be viewed while offline (not requiring Internet). For offline viewing of DRM files you as the author of the media can provide an Access Token for each user/file that will provide DRM permissions without checking the server.

APM Reader
The APM Reader is a free download to the public and can be distributed with your media archives. If a media file is packaged for Token Protection then the ArtisBrowser will be required. When DRM is applied, the user needs to be online for APM to check DRM permissions on the server. However an Access Token can provide those permissions while offline. Access Tokens need to be saved to the same folder that stores the APM file for the APM Reader to find it.


APM Packager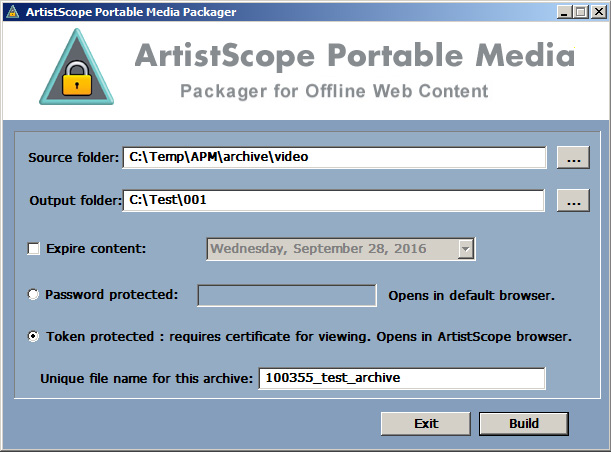 Output options are:
Password protected - leave blank for no password. Opens in default web browser.
or Token protected - an access token is required for viewing. Opens in ArtisBrowser.
Downloads and Demos
ArtistScope Portable Media software can be evaluated for free. Both the APM Reader and APM Packager are free to use without limitation. However to use DRM you need to subscribe to the APM Token Management service to manage your users, archives and DRM tokens that will enable offline reading while protected from sharing.


| | | | |
| --- | --- | --- | --- |
| | APM Reader Software (version 3.0.6.1) | Download | 2.24 Mb |
| | ArtisBrowser (includes APM and CopySafe plugins) | Download | 38 Mb |
| | APM Packager Software (version 3.0.5.2) | Download | 2.28 Mb |
| | Reader User Guide in PDF | Download | 222 Kb |
| | Packager User Guide in PDF | Download | 145 Kb |
| | APM Media Example | Download | 17.9 Mb |
Tutorials and Templates
Using the APM Packager is not a rocket science but some familiarity will help, especially if you rely on a CMS like WordPress to create web pages, because the APM solution requires that you display your media on web pages using HTML.

The following list of tutorials on videos will walk you through the steps and templates for displaying different media are also provided:
| | | | |
| --- | --- | --- | --- |
| | How to create APM files for CopySafe PDF | Watch video | 44 Mb |
| | Packaging Protected PDF for APM | Download | 2 Mb |
| | CopySafe PDF template for APM Packager | Download | 255 Kb |
| | How to create APM files for CopySafe Web | Watch video | 60 Mb |
| | CopySafe Web template for APM Packager | Download | 17.6 Mb |
APM Licensing
The APM Reader is free to use by everyone and can be distributed on disk with media archives providing that its installer remains intact. To enable the Packager to assign DRM to a media archive, an Author license file is required.
| | | |
| --- | --- | --- |
| APM Token Management Service | Service fee per month | $35/month |
| | Service fee per 3 months | $27/month |
| | Service fee per 6 months | $22/month |
| | Service fee per 12 months | $18/month |
| Account Setup Fee | One-time setup fee | $45 |