10.1 Copysafe Server DLL

The Copysafe Web converter software is custom compiled for each web site to included licensing code, so each web site requires a separate JAR file.

You can either rename the jar file for each web site, or leave as the same file name but in a separate folder of its own in the "hosts" folder, which is where you will find the first licensed site (0main).

Each Jar file can have its own watermark and viewer/Template.txt to better suit the web site used for display.

Application file

For Copysafe Web the image converter file will be ArtistScope.jar
For Secure Image Pro the converter file will be SecureImagePro.jar

Windows Server 2003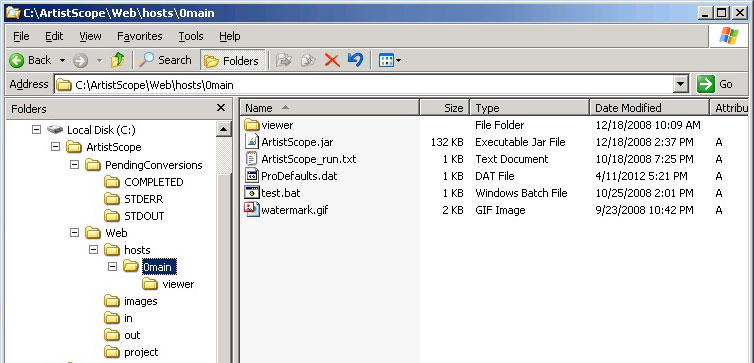 Installation

How you configure your folders is up to you. The example given above will cater for many different web sites, enabling each to have their own JAR , templates and destination folders.

Running the provided installer will dump a copy of the files and folders (as seen above) as well register the DLL on the system.

Testing

Commands and .bat files for testing are explained on the previous page. The code for calling the DLL can be seen on the next page.

Resource

NOTE: The Encrypted Image Server DLL for interfacing Copysafe Web converter is is not included in the normal software package but it is available for free. However it is provided as is and without warranty.